Ne serait-ce que grâce à sa très réussie adaptation française par Joe Dassin ("La Marie-Jeanne"), "Ode To Billie Joe", depuis quarante ans tout juste, est rentrée dans l'inconscient collectif. Et il faut bien reconnaître que cette chanson de suicide ourlé de secret (avortement ?), d'autant plus bouleversante qu'elle échappe à tout pathos, a quelque peu éclipsé Bobbie Gentry, son auteur et interprète.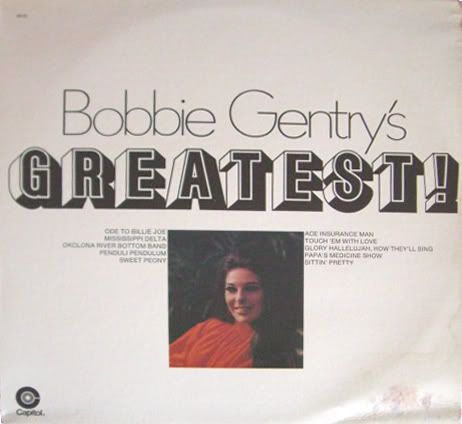 Il aura fallu que Philippe "
I wanna be be your blog
" Dumez décide de se séparer de la moitié de sa collection de vinyles pour que l'arbre cesse enfin de cacher la forêt, en ce qui me concerne. Pour deux euros, qu'est-ce que je risquais ? Rien, sinon de découvrir qu'à la fin des années 60, la native de Chickasaw County, Mississippi, n'était rien moins que la plus remarquable chanteuse de soul sudiste blanche, capable sans se forcer d'en remontrer à Dusty Springfield, autrement plus célébrée.
Si, à l'écoute de "Mississippi Delta" or "Okolona River Bottom Band", on en vient à se demander si, tant qu'elle y était, elle n'aurait pas inventé le swamp-rock, la réponse est oui. Tony Joe White, le roi du genre, ne manque jamais une occasion de rappeler que "Ode To Billie Joe" lui a montré la voie à suivre : écrire sur ce qu'il connaissait, d'où "Polk Salad Annie" et autre "Rainy Night In Georgia".
Et même si la suite de sa carrière se révèlera moins passionnante (des duos pépères avec Glen Campbell, ce genre), pendant un temps, Miss Gentry tutoya la perfection. Accommodée aux plus goûteuses épices du Sud. Inutile d'attendre qu'elle fasse son entrée dans un prochain tome du Dictionnaire snob du rock. Il y a bien une compile qui vous attend dans un vide-grenier près de chez vous.
Ode To Bobbie Gentry: A Tribute